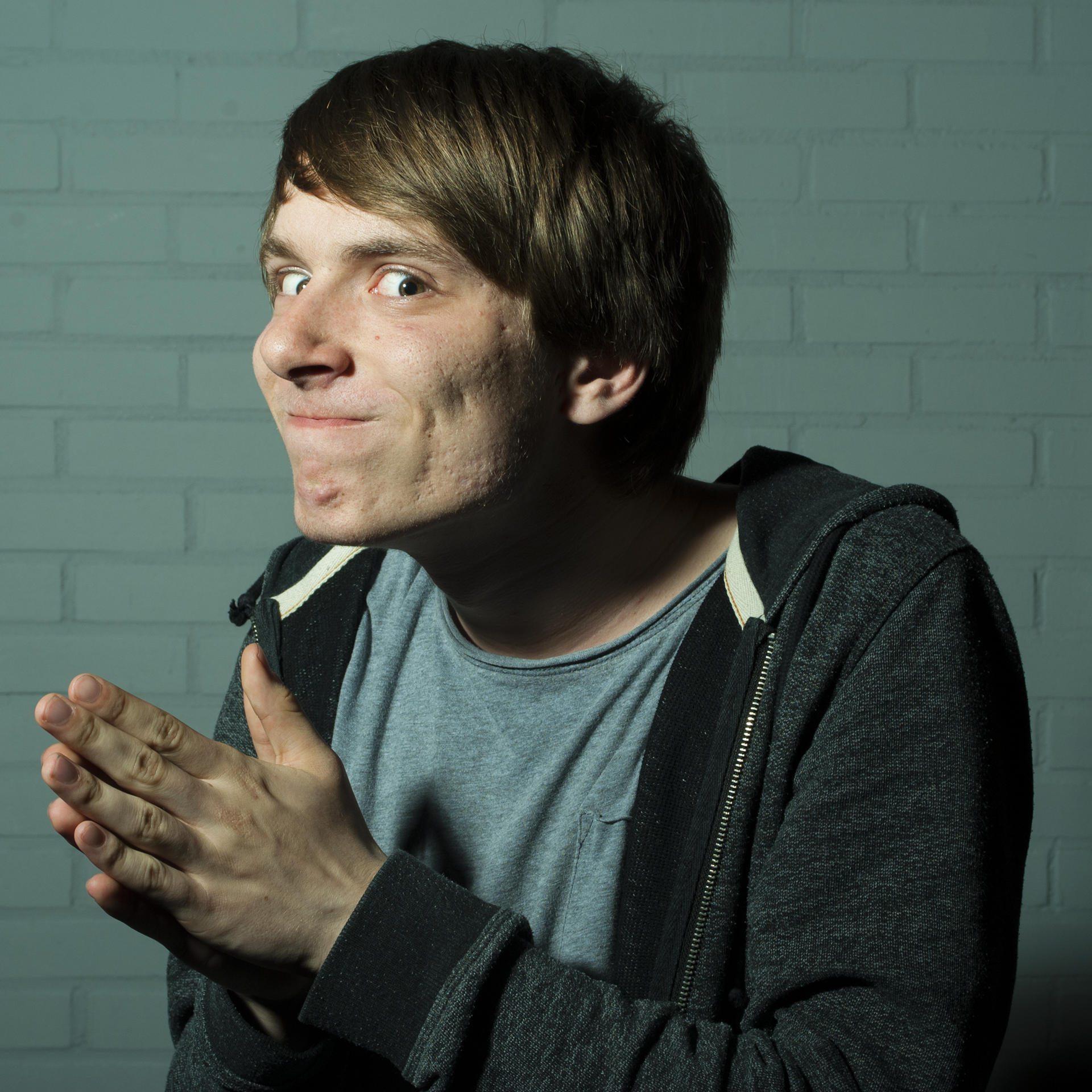 Full Name:
Mitchel Wensveen
Age:
18
City of Birth:
Alkmaar, The Netherlands
Nationality:
Dutch
Tongues:
Dutch & English
Years Active:
Since 2008 (Ten years)
Hobbies:
Playing Games, Watching Cartoons, Sitting around a fire with friends to brainstorm cool new ideas.
Favorite Music:
Daft Punk, Gunship, Starcadian, Lazerhawk, Carpenter Brut.
Favorite Movie/TV Genre's:
Adventure, Science Fiction. I like them most when they're spiced with character oriented narratives.
Things I think I'm good at
Directing and Overseeing a live-action internet scale film production.
Writing compelling stories and screenplays with charm and creativity.
Designing charming characters and worlds.
Designing logo's and branding for companies and events.
Animating graphical assets and creating bumpers & intro's with flexible movement.
Editing and compositing internet video's and television broadcasts.
Managing Social Media account's.
Acting and Voice Acting for human and non-human characters.
Drinking all of the coffee in the office.
Super Nick
One Day Host
•
2008 
• With Nickelodeon & Viacom Europe.
MitchelChannal
Creator and Developer
•
2010-2020
MitchelChannal is my first YouTube channel and first official project. It is still active today, but it's priority has been lowered in favor of new projects. In 2018 the channel was massively downsized because of lack of interest. The channel and all of it's related brands will be cancelled in 2020.
Vraag Het Mitchel
Creator 
•
2010-2011
The first show to launch on MitchelChannal. I would pick a random question and I would answer it. Nothing really special. It got cancelled in 2011 in favor of higher quality content.
MitchelChannal Games
Creator and Host 
•
2011-2017 
• With Dennis den Besten, Ruben Klijn & Jeroen Schmidt.
The gaming arm of my channel. It had several reboots. The channel got cancelled in 2017 due to us not being able to maintain the channel and the need to move on. The channel "Glorious Rigby" could be considered a spiritual successor to MCG.
Mitchel's Wijze Les
Creator 
•
2013-2018
A spiritual successor to Vraag Het Mitchel. Every episode tackled a different subject. The show got cancelled in 2018 due to MitchelChannal's downsizing. Plans for season three has been scraped.
Crazy Is Crazy
Voice Actor 
•
2014-
Ongoing... • With Mark Roosien
I do some voice acting for the YouTube Show. Mostly for the Red Universe episodes where I voice Alfred the Gnome and Red-Mitchel.
Altijd Raak
Video Producer 
•
2014-2015
 • With Diego Boin, Bjorn Ringnalda & Mark Roosien
I produced some video's for the channel. It was a collab with a couple other channels. It was short lived however. The channel was abandoned throughout 2015, leading to it's quiet cancellation at the end of that same year.
Glorious Rigby
Creator/Producer/Voice Actor 
•
2017-Ongoing...
Glorious Rigby is one of the new projects that will replace MitchelChannal. GR is the first international channel, reaching audiences all over the world. The channel will be about an alien from outer space trying to make it big on YouTube. Eventually, more of his backstory will be unraveled as the channel goes on, giving the channel a whole second dimension and a mysterious vibe.
Ace & Andreas
Director/Writer/Compositing 
•
2016
 • With Fabio Steltenpohl
This is an unreleased stopmotion animation created by me and Fabio. The original script was about eight pages long. We suffered from production issues and eventually we dropped distribution. It might still be put online though. We're not sure at this point.
Travelbound
Director/Writer 
•
 2017
 • With Conner Bottelier
This has been a passion project. We were in production of this short-film for about three months. Most of that time has been spend on writing the script and developing the characters. We shot the entire thing in one day. The decision was made to not make the short public. However, it will probably make it's way online somehow in the future.
Bone Crushers
Creator/Animator/Voice Actor 
•
 2017
Originally a project for the Vidme Green Screen Challenge, Bone Crushers is a compositing and voice acting project that is ongoing to this day. It is also one of the first full projects under the Mitchel's Workshop name. An extended version is in production with a bigger story, more voice actors and more polished visuals. Because of Vidme's closure at the end of 2017, the video has been moved to YouTube.
Alien Hunters (Working Title)
Creator 
•
 Concept Stage
This project is in it's early concept stage. It's going to be about a girl hunting aliens in and around her city. Off course, the story is going to be more complex as more production time is being spend on it. A second concept video has been produced and is awaiting publication.
Dual Core (Working Title)
Creator 
•
 Concept Stage
A cartoon about a human and an alien controlling two massive titans as a team. This is a concept and is currently being worked on by myself. Getting it into full production is the dream though. You'll probably hear more about it as time goes on.
This list will be updated as I gain more work. (Plz hire me)